RTL Klub and TV2, Hungary's largest national private TV stations, are protesting a government decision to tax media companies according to their net annual advertising revenues, according to a May 28 article in portfolio.hu. An announcement from RTL Klub reportedly called the measure "unprecedented in Europe," and added that the company might leave Hungary over the tax. The graded tax, announced a few days earlier, would hit the major broadcasters hardest. The tax is reportedly part of the government's effort to make sure the country can exit the EU's excessive debt procedure.
RTL Klub and TV2 are Hungary's most-watched TV channels, and together dominate the country's TV broadcast market. In 2011, RTL Klub and TV2 earned a 27.9% and 19.5% audience share, respectively,according to market data. RTL Klub is owned by Magyar RTL (M-RTL), which is the property of RTL GROUP Central and Eastern Europe (RTL CEE), a subsidiary of German media conglomerate Bertelsmann. TV2 is owned by MTM-SBS Televízió Zrt., a company currently held by MTM-TV2 Befektetési Kft., Netherlands-based Danube Broadcasting B.V. and P7S1 Broadcasting Europe B. V., which is a Netherlands-based holding company for SBS Broadcasting Europe B.V., a subsidiary of ProSiebenSat1 based in Germany.
The announcement of the new advertising tax followed reports that TV2 could be bought by Infocenter.hu, a Fidesz-linked firm, according to hvg.hu.
Local business daily Napi Gazdaság published a list of companies affected by the ad tax: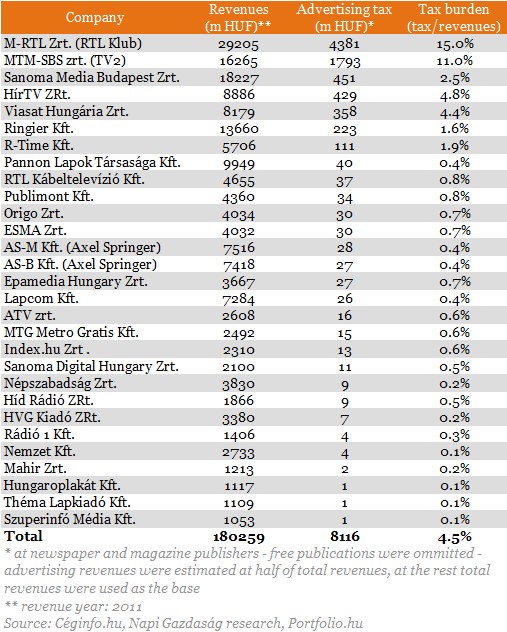 Read full article here.